Capturing The Iron Throne
 25th Jul 2019
Are you missing Game of Thrones? It seems plenty of people are: a petition to bring back the series has gained more than a million signatures, and forced the boss of HBO to respond.
No doubt company bosses will be hoping for a reprisal too, because when Westeros was all the rage, marketers jumped on the dragon-filled bandwagon to reach their customers. Rather than focusing purely on their product/service, these adverts really turned the eye on their customers and producing excellent content that is funny, engaging and above all else, smart.
At one point, the internet popped off after Starbuck's cameo in Winterfell, which reportedly made them an estimated $2.3 billion in free advertising. Others, much less subtly, chose to do this. We have compiled a list of the best video marketing campaigns that have captured the iron throne…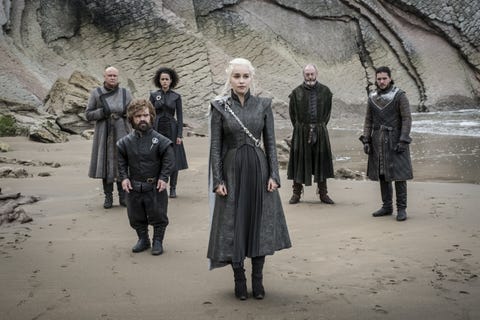 And, in case you're still to join the throng of GoT fans, don't worry, this content is ** SPOILER FREE **
ALDI: 'The Burning Toilet' (2019)
Aldi has always been praised for its subtle and funny adverts where their competitive prices are their core message. This advert sees two wildlings comparing Aldi's loo roll with a more expensive brand, only to be partially obliterated by a dragon halfway through. 
This light nod to Game of Thrones is an engaging piece of video marketing that shows even when you're advertising something as uninspiring as toilet roll, you can still find ways to keep your customers entertained – jumping on a worldwide phenomenon is one way of doing that.
KFC: 'Lunchtime is Coming' (2017)
This advert takes one of Game of Thrones' most heart-wrenching scenes, Hodor's tragic death protecting Bran, to market the Colonel's chicken. Talk about using juxtaposition for dramatic effect! 
Just as the white walkers overpowered Hodor to feed their desire for human flesh, so the hungry customers' desire for KFC's crispy, original recipe chicken begins to overpower Hodor (Kristian Nairn). The hungry peoples repeated 'Chicken with fries' taunt grows until Hodor is in a stress-induced trance … cue the melancholic Game of Thrones violin before someone orders 'chicken with rice,' and he's back from the brink of madness. 
KFC managed to portray their Rice Box as Hodor's savour, by showing it as the new and exciting option that distracts hungry lunchers. If saving one of Game of Thrones's most-loved characters isn't fantastic product marketing, we don't know what is.
Bank of Scotland: 'The Bank of Castle Black' (2015)
Video marketing for banks tends to focus on real people and real stories. This ad does do that, but with a light sprinkling of Game of Thrones magic. The advert features a young adult whose parents are disputing over the right house-buying advice. Suddenly he appears in a snowy scene, resembling the North above the wall (the 'real' North) where he is met by Castle Black's Jeor Mormont.
Jeor delivers a motivational speech which declares the Bank of Scotland as the banisher of all financial distresses, in and among some classic Game-of-Thrones-esque vague metaphors of owls. The literal escapism of this advert is one of the reasons why the show is so popular – Bank of Scotland are using this to their advantage. 
Greenpeace:  #WinterIsNotComing (2016)
This is a very clever and thought-provoking piece of video content marketing. This advert uses the chilling and frightening white walker to convey a simple story with a complex and poignant message. As we see the white walker stalking towards us, eyes as blue as the ice surrounding it, they suddenly fall through the ice, followed by two statements:
"A few degrees more, it changes the whole story"

"Ice melt is only a consequence of climate change that threatens our planet"
The marketers at Greenpeace use the story of the growing ice walker (winter is coming) as a metaphor for climate change. How a few degrees could have changed the whole story; they compare the violent Seven Kingdoms whose fight for greed and power (The Iron Throne) has overshadowed the growing problem of the white walkers until the eleventh hour to the world's ignorance or avoidance of climate change.
Oreo: Snack Sequence (2019)
We finish off with another advert from this year – Oreo's tribute to Game of Thrones' iconic title sequence. This 50 second advert is extremely engaging and hunger-inducing; Oreo has recreated the sequence and used their biscuit instead of the real seven kingdoms. With no words, story or people, the biscuit stands alone in this advert. Game of Thrones' presence in the media means there is little need to add extra emphasis. They're not attempting to create a story where people fight over a biscuit throne, but to engage the audience through an iconic show. 
-----------------------------------------------------------------------
Game of Thrones is a violent show that displays flagrant misogyny, racism and assault of every kind. But, despite all this, the show is one of the highest-grossing of all time. You can even learn High Valaryian on Duolingo! 
Readers and viewers have always soaked up escapism, fantasy and history in stories. Game of Thrones is essentially a battle of power and good vs evil that never ceases to surprise viewers; people die, no matter how important they are (half on the most important characters have been killed).
Video marketers are getting in on the surprise through their timely and funny adverts. I doubt when George RR Martin wrote Hodor's character he would ever be marketing Kentucky Fried Chicken.
Here at Middle Table, we are guided by three principles: 1. Understand the client; 2. Be imaginative; 3. Be responsive. This is how we go about creating hard-hitting and engaging content for your company. If you would like to learn more, get in touch today.